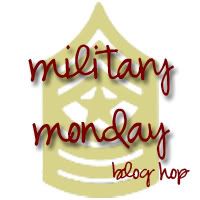 Welcome! If you're here from the Military Monday's Blog Hop I'm glad you could stop by. This is actually my first time ever participating in a blog hop so bear with me :)
Being that it IS Military Monday and all.... I thought a military themed post would be pretty appropriate.
We are preparing for the big "D" in our household right now (seems we're always preparing really) and it's approaching quickly. Certainly not to bring up bad memories or scare someone who hasn't been through a long separation but I want to talk about this today.
This morning I woke up to the most awful feeling all because of a dream I had last night that, that day had arrived. For some reason the bus came and picked my husband up at our front door. That must be because we've been throwing around the idea of not going and sitting with him until they board the buses. Anyway, the bus pulls up, we all go outside and say our tearful goodbyes, hanging around as the bus pulls away and
then
comes the really hard part,
going back inside the house
.
You all know that feeling! Even if you've only going through a one month FTX, you know that initial feeling. For me, short separations don't really create this wave of emotion anymore but these deployments sure do. It just
feels
empty. You realize that your spouse won't grace your home for six to eighteen months. For me, I get pretty listless. I seem to kind of wander around the house in a daze for a while and then it's back to the usual daily grind. With three children ranging in age from four (almost five) to eighteen, I can't wallow in my pity for long.
Last deployment was actually great! NO! Not the deployment itself. The getting back into the daily grind. I actually had an appointment the very day he left so it forced me to get up and out of the house quick and begin the
new normal
. I had a really busy week that whole week. So I'm really hoping that I can schedule some can't miss appointments for right after he leaves with this one as well, just so I can get us all moving into a positive direction as fast as possible.
What about you? How do you deal with the adjustment of having a hole in the family when your spouse leaves?